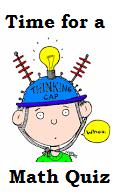 Directions for this Mathematics Test:
You are NOT allowed to use calculators. Have a pencil and paper besides you to do some workings. This test has THREE sections with a total of 45 items.
SECTION I has 20 items (Nos. 1-19). Each item carry 1 mark.
SECTION II has 20 items (Nos. 20-25). Each item in this section may carry 2 or 3 marks.
SECTION III has 5 items (Nos. 26-30). Each item in this section may carry 4 or 7 marks.
You have 75 minutes for this test and three retries ONLY. Answer ALL questions. Read each question carefully before answering it. Work carefully but do NOT spend too much time on any one question.
Retries of this quiz is only allowed for registered users ONLY.
Click to begin the SEA Practice Math Quiz 1.
You will need to have a pencil and paper for some workings.